Julphar Bangladesh has launched Doxair 200;a novophylline, ensures easy breathing
Julphar Bangladesh relentlessly thriving not only with new molecules but also with newer strength. As a continuation on 8th March, 2017 Julphar Bangladesh has launched Doxair 200 (Doxophylline 200 mg), a novophylline ensuring easy breathing.
Doxophylline, a new generation xanthine derivative with a dioxalane group at N-7 position of its chemical structure shows less affinity to Adenosine A1, A2 receptors. Thus ensures less side effects than theophylline & aminophylline.
Xanthine clearance is decreased in patients with cardiovascular failure,renal or hepatic failure, COPD, active influenza infection or undergoing influenza immunization & patients taking other drugs like cimetidine, propranolol, erythromycin, ciprofloxacin. So the dose of Doxophylline in these cases is required to be reduced.
For elderly patients Doxair 200 is recommended twice or thrice daily. In case of children(above 6 years of age) recommended dosage of Doxophylline is 6mg/kg twice daily.The dose may be increased upto 18 mg/kg daily on the basis of clinical responses.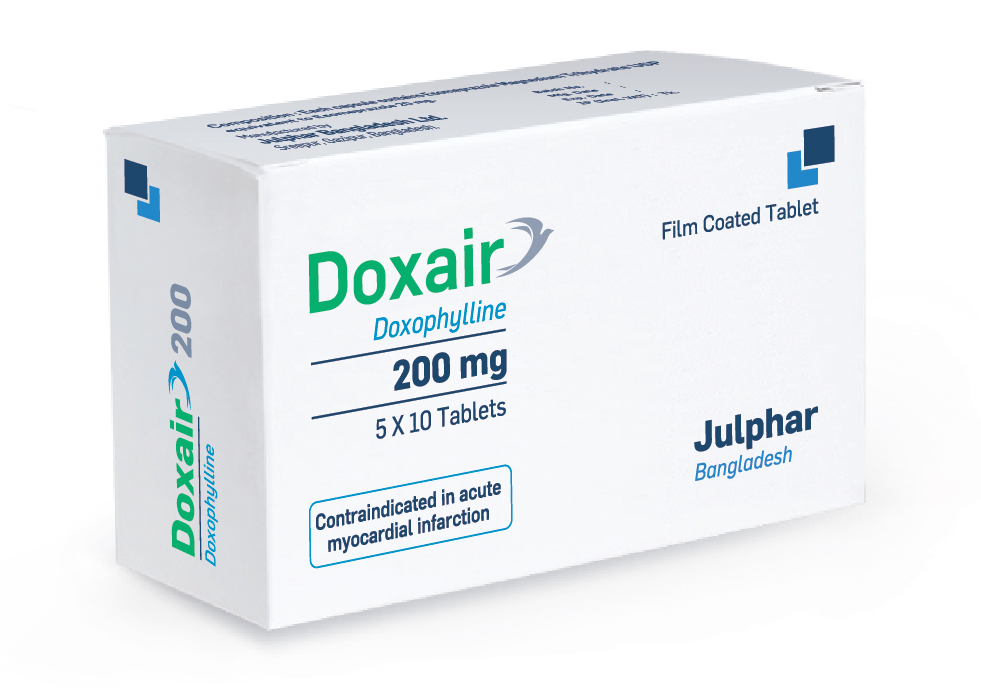 Provides outstanding efficacy & tolerability in Asthma & COPD
Provides both Bronchodilatory & Anti-inflammatory effects
Ensures cardiac safety
Ensures renal & GI safety
Ensures normal sleep
Ensures best quality API from certified sources